2022 Registration Basics
Online Registrations OPEN Friday January 7th 2022
Registrations for the 2022 Winter Season OPEN www.playfootball.com.au
To Register you must Sign In to Playfootball using an email or social media account (same method you used in previous years). If you no longer have access to this email please contact Play Football Help.
Forgotten your password? You'll be prompted during the profile claiming process.
New to the area? You can find a local club here
Registering school aged player/s? Before you start, download your 2022 Active Kids Voucher to redeem when finalising registrations.
WHEN TO REGISTER?
As early as possible in January. Clubs generally require all players to be registered by first week of February in order to finalise teams for the season. Check your chosen Club's website/Facebook Page for details.
HOW TO REGISTER?
Returning Players - To Register you must first claim your profile. If you played in 2021, use the same method you used in 2021. That is:
your email address; OR

your Facebook login; OR

your Google login.
Play Football will match your details (name and date of birth, etc).If you used your email and have forgotten your password, simply follow the prompts in Play Football. If you have any difficulty the Support desk will assist you.
New Players - Set up a New Profile www.Playfootball.com.au
Now you're ready to register yourself and any linked family members. Before you start make sure you have the following ready to use:
Have your credit/debit card ready to pay online

If you are registering school age children please have your 2022 Active Kids Voucher ready to use for payment when finalising your registration.

Have your photo ready to upload (if required, ALL Male & Female Players who are playing in U10/W10 age group must upload a current passport style photo to their profile.)
If you have any problems or queries with your online registration please contact Play Football Help or call 8880 7983
Team Preference Option: this is a timesaver for our club volunteers, your compliance when prompted will be appreciated.
If you have any Club related queries please contact your local club.
SEASON START DATE: - Round 1 on 26/27 March – To be eligible to play Round 1 ensure your registration is finalised on time. Club Registration deadlines exist to meet the SSFA Office deadline of 9.00am Monday 21 February.
Support your club committee members by registering on time, completing all required information.
Active Kids Program
The NSW Government Active Kids program online application becomes active on 1 January and 1 July each year. This means, you can immediately apply for a voucher valued at $100 per school aged child, to go towards their Registration.
You must apply and receive your voucher before registering your child to play.
You must have a MyServiceNSW account and apply via the Service NSW Website, you will need your family Medicare card.
Your voucher number will be emailed to your nominated email address. Keep it to use when you register online to play with via the Play Football website.
Click Here for more information and answers to help you through the process.
ID Photos
ID Photos are required for all Male and Female players U10/W10 and ALL NEW players wo are playing in U10/W10 and ABOVE age groups, must upload a current passport style photo to thier profile.
For individuals that require a photo as part of their registration, please ensure the photo is a passport style image of the head only. Hats and sunglasses must not be worn in the photo. If you require sports glasses to enable you to play then your profile photo must display you wearing these sports glasses. You will need to contact the club registrar for more detailed information that is required of you as the glasses will also require approval from SSFA.
Please Note: any inappropriate photos may result in your registration being declined.
Club Team Grading Information
Refer to your club website.
Round 1
Saturday 26 & Sunday 27 March
To see all competition dates for 2022 season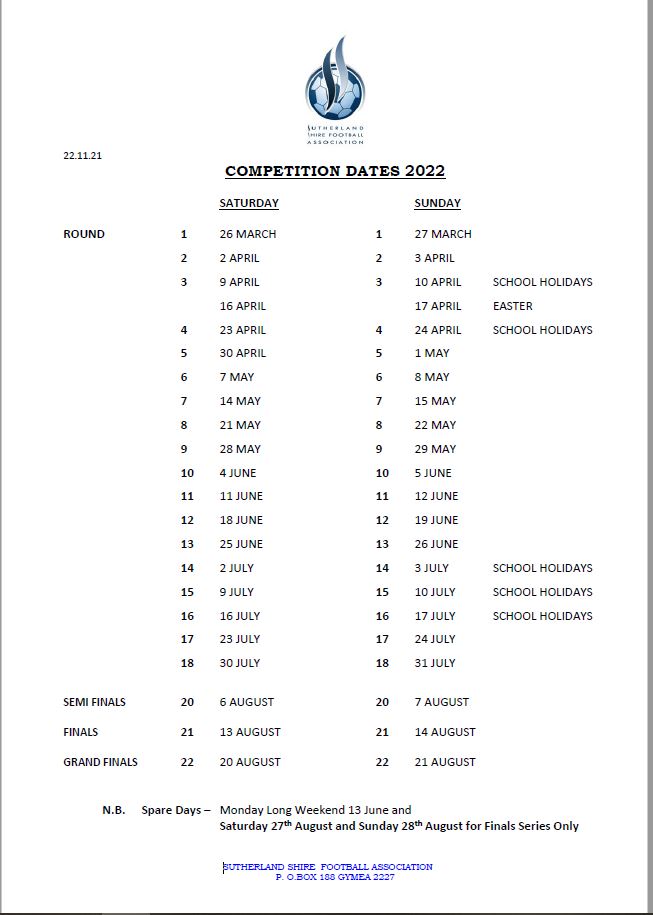 Uniforms
Refer to your club website.
Interested in Coaching or Managing a team?
Clubs are run by Volunteers and rely on extra help from parents and senior players.
Playfootball Coach/Volunteer Registration Register as a Coach or Manager/Volunteer for 2022 season (Managers/Volunteers follow the same link; Volunteer option will be shown after you begin the registration steps)

WWC check – Number and Expiry date and Date of Birth.

MISPLACED OR LOST your WWC details? Click here to retrieve.

When you have completed the above, send details to your club.

If your club is listed below as a Shared Services Club, please either log in or register to update/setup your profile to ensure your receive Coach/Manager information from your club throughout the season.
Thank you for ensuring your club complies with FNSW Policy.
Registration for this website is only applicable to Coaches, Managers & Committee of Clubs that are participating in Shared Services:
Barden Ridgebacks Football Club

Bundeena Maianbar Football Club

Como Jannali Football Club

Cronulla RSL Soccer Club

Cronulla Seagulls Football Club

Engadine Crusaders Football Club

Engadine Eagles Football Club

Grays Point Soccer Club

Gwawley Bay Football Club

Gymea United Football Club

Lilli Pilli Football Club

Loftus Yarrawarrah Football Club

Sylvania Heights Football Club